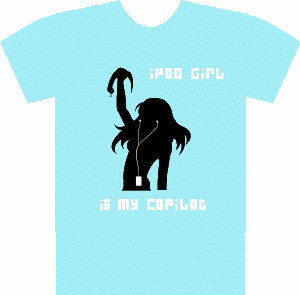 As movies go, great characters are a critical component in any great film. Even the most minor of characters can make or break a movie: Sam in Casablanca, Wedge in Star Wars, Einstein in Back to the Future, and that Asian kid in Temple of Doom. Wouldn't be the same without 'em.

So here it is, a shirt commemorating the greatness of iPod Girl, who plays a small -- but pivotal -- role in Snakes on a Plane. For those of you unfamiliar with the cast of Snakes, you can read her interview at Snakes on a Blog.

Print is black and white on aqua. Made in the USA and printed on high-quality, nice-fitting American Apparel shirts. Ladies' babydoll shirts are AA4305.