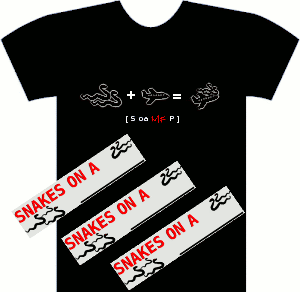 Some snakes are on your ordinary, run-of-the-mill planes, but these snakes on a mother fuckin' plane.

Due to customer demand, this shirt features "[S oa MF P]", instead of the 4-letter acronym used on the standard shirt. And because it's a special edition, it's in black, just like the U2-edition iPod. That's right, you will achieve rock star status by wearing this shirt.

Print is white and red on black. Made in the USA and printed on high-quality, nice-fitting American Apparel shirts. Ladies' shirts are on American Apparel Ladies' Jersey Tees (not babydoll).